Broxbourne are County Cup Winners!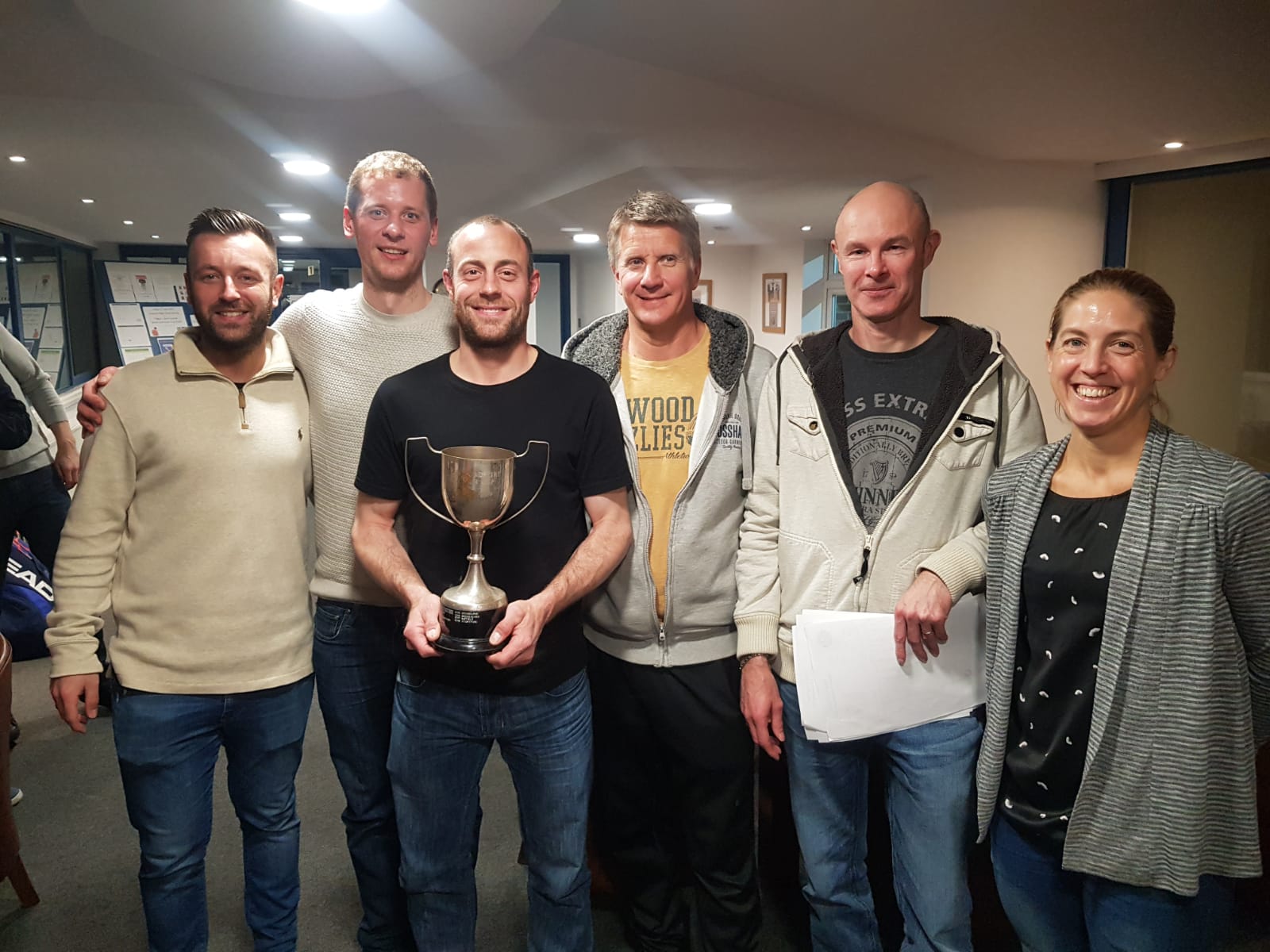 Friday the 12th of April saw Broxbourne First Team travel to Bishop's Stortford for the Hertfordshire League Squash Cup Final. Broxbourne's opponents, Harpenden, delivered consistency throughout their season , which saw them take a top 3 position. With Broxbourne finishing second in the league over the season, the fixture was set to be a nail-biter. Keith Timms, captain of Broxbourne and playing at Number 2 wasted no time in putting Broxbourne ahead 1-0. Timms, using his renowned movement and battling spirit cruised to a 3-0 victory over the spirited young Nick Rossiter. 
 On the adjacent court, Peter Gunter, playing at Number 4 is a Broxbourne veteran and showed some fine rallying and determination. However, his opponent had clearly been training hard and had a little more in the tank and took a 3-0 win, albeit a tough one.  The scores now even at 1-1.
Next up were Number 3, Lauren Briggs, and Number 5, Kris Davis.  Briggs playing English Veteran Eamonn Price and Davis matching up against Harpenden's Number 5, Marvin Rust, these clashes saw the tensions rise.
Briggs battled through but lost 3-1 giving Harpenden a 2-1 lead.
Davis was battling hard against Rust and used control, great precision to take a 2-1 lead. Rust however, was not about to throw the towel in and with some gritty squash clawed the match back to 2-2, the pressure now mounting on Davis to pull out a victory. With a more vociferous crowd they cheered and willed Davis to a 3-2 victory.
Leveling  the fixture up 2-2, fitting as the last match to be played was the Number 1 string.
The talented Rory Pennell used his depth, and outstanding shot selection to cruise to a 2-0 lead. The cup looking almost certainly going to Broxbourne.  Pennell's opponent, Rob Luke had a different plan.
Luke battled through gruelling rally after rally, making Pennell reach and stretch, twist and turn , shot after shot.
Pennell visibly fatigued, Luke's senses this and with no let up he continued to work Pennell. His efforts duly rewarded by taking the 3rd game.  This unsettled Pennell, Luke's upped the ante, his pace, speed and agility increasingly evident as Pennell suddenly looked out of sorts.
If Rob Luke were able to sneak the 4th game, he would have been odds on to clinch the decider.
The rallies extended, with both players jostling to control the other.
An uncharacteristic and untimely error saw Pennell take a 1 point lead to 9-8.
Again another tough rally followed by an Luke's error meant Pennell secured his first match point and cup final ball.
Pennell with his silky smooth skills and dogged determination took the match ball at first attempt.  Broxbourne securing the fixture win and the Hertfordshire Cup.
A strong season from the Broxbourne team and solid team effort in the cup final made Keith Timms a happy captain.
"I'm really proud of the team and the effort everybody put in all season.  They've they've shown great commitment and I'm really happy and proud that we are Hertfordshire Cup Winner's"
Brox team
Rory Pennell
Keith Timms
Lauren Briggs
Peter Gunter
Kris Davis
Harpenden team was
Robert Luke
Nick Rossiter
Eamonn Price
Andy Eilfield
Marvin Rust