Christmas Gift Fair

Sunday 13 November | 11.05am-3pm
Club members and the local community all welcome. Some stalls will be cash only.
Make a start on your Christmas shopping with our fabulous selection of stalls selling products:
Handmade Silver Jewellery
by Lynn Jewellery – Lynn is a Broxbourne Tennis Club member who designs and makes silver jewellery. She will have earrings, necklaces, bracelets, rings etc to sell and will take orders/commissions for Christmas.
www.bylynnjewellery.com
Home Fragrances
Profumi di Casa by Micki makes handmade wax melts, reed diffusers and room sprays. All fragrance 0ils are cruelty free and vegan. I also offer a variety of different gifting options. You can find me on Facebook & Instagram @profumdicasabymicki
Skincare Products
Jane will be selling Tropic Skincare which is an award winning, vegan beauty brand, freshly made in the UK with premium ingredients. I will have the gifting collections available plus will also be happy to offer any help or advice concerning products or skincare.
www.linkt.ree/Janedownes
Wooden Crafts
Richard Elliott is offering a range of gifts made from seasoned wood from his Broxbourne garden and from trees donated by friends. There are a variety of kitchen items and bird boxes. All proceeds will be donated to charity (50% Macmillan; 50% to the club's access fund).
Cards & Gift Wraps
Carmen Hollis will be selling Christmas cards, Advent calendars, birthday cards, gift-wrap, stationery and gifts from the Flamingo Papery range.
www.flamingopaperie.co.uk/web/carmenhollis
Personalised Gifts
At Crafty Little Monkeys we make personalised Frames and Gifts for all ages and occasions. We will have gifts available to purchase and can take orders for Christmas presents. You can find us on Facebook @craftylittlemonkeys8
Christmas Wreaths & Garlands
Deck the Halls Enfield, makes and sells Christmas wreaths and garlands with some other Christmas bits to decorate your house for the Christmas holidays. Find us on Facebook @deckthehallsenfield & Instagram @deck_thehallsenfield
Local Honey
Amber Bees – Solle and Basia are beekeepers from Hertford. Bees are they passion, they can talk about them all day long. Both of them help with beekeeping courses at the Hertford and Ware Beekeepers Association and support new-bees. They will have a variety of hive produce: honey, propolis, bee pollen, bee bread, creamed honeys with these, honeycomb, pure beeswax candles and abundance of Christmas gifts. Find us on Instagram @amberbees.herts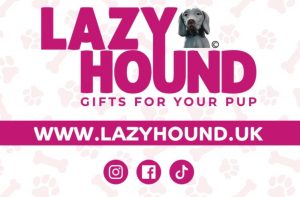 Dog Toys
Lazy Hound – Amanda is a Broxbourne Tennis Club member who has just started a new dog gifts and celebrations business. Among our gifts are they very popular 'parody' dog toys made in the UK, some yummy peanut butter, lick mats and bamboo chews. We can take pre orders on our other exciting gifts coming in a few months.
www.lazyhound.uk