COME & PLAY OPEN WEEKEND – Padel & Tennis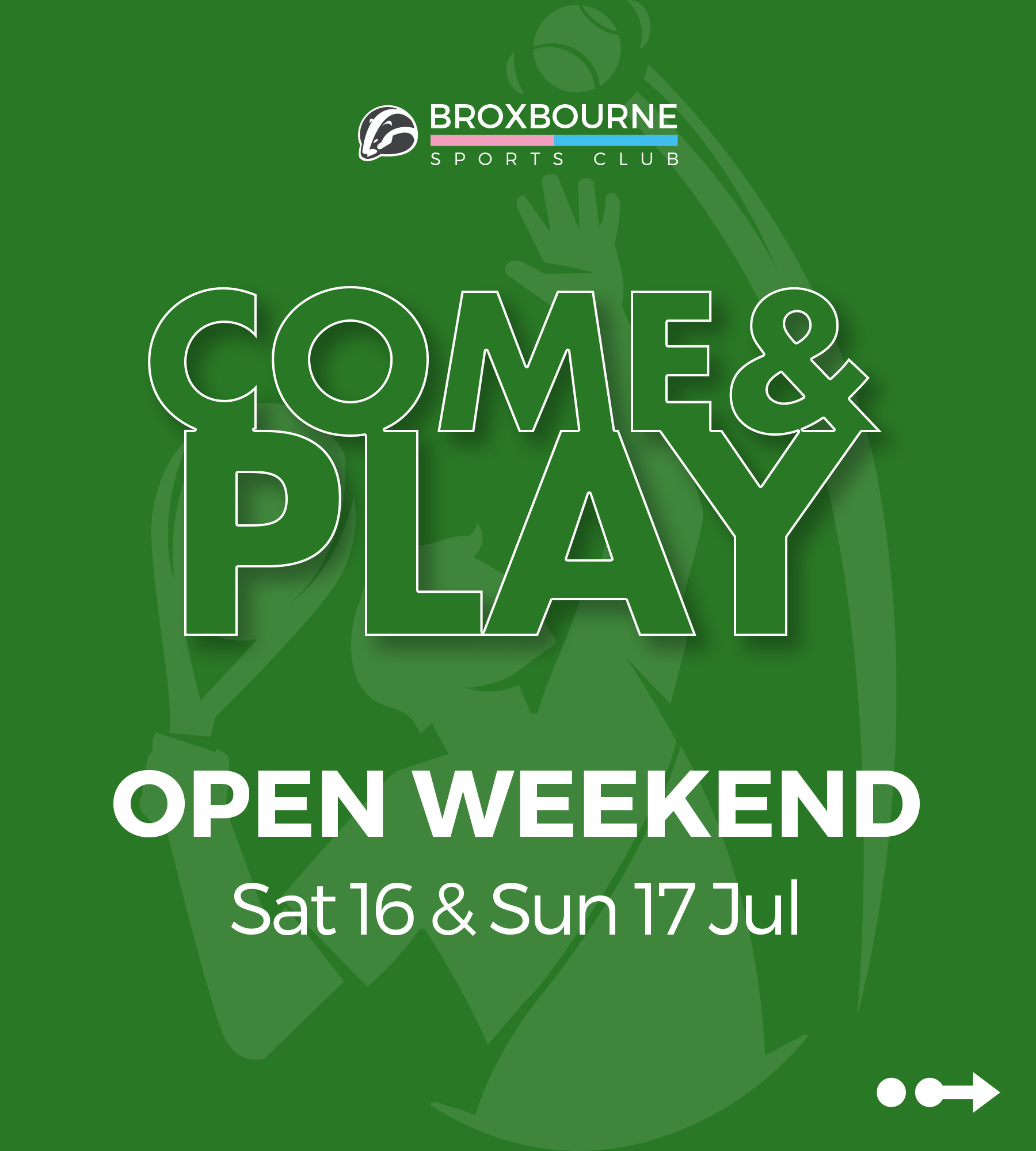 'Come and Play' both Tennis and Padel at the Broxbourne Sports Club Tennis and Padel Open Weekend on 16th and 17th July.
The Game 4 Padel organisation have been busy building two new Padel courts in between our tennis courts, ready for all members and outside guests to enjoy.
We have taster sessions in both disciplines and dedicated experienced coaches to help and aid you in experiencing both sports. All ages and abilities welcome.
Adults who already have tennis experience are very welcome to come and join our open club afternoon and play on our new all weather surfaces and also real grass courts.
More details about how to book the Padel sessions to follow. No need to pre-book the tennis coaching or Club Afternoon – just turn up.
You can also view an exhibition match on one of our brand new Padel courts to see this exciting fast growing sport.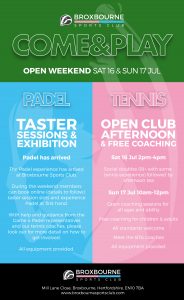 Padel Open Weekend Programme
| | | |
| --- | --- | --- |
| Time | Saturday 16th | Sunday 17th |
| 9am – 10am | Intro Session | Intro Session |
| 10am – 11am | Intro Session | Intro Session |
| 11am – 12noon | Intro Session | Intro Session |
| | | |
| 2pm – 3pm | Intro Session | Intro Session |
| 3pm – 4pm | Intro Session | Intro Session |
| 4pm – 6pm | Exhibition Match | |
The intro sessions are free of change and will be conducted by experienced padel coaches from Game 4 Padel. There are places for 8 people on each session and you will learn the rules and basic techniques to start playing the sport. You need to book your place in advance using the link below by registering with MATCHi and select the session you wish to join.
BOOK OPEN WEEKEND INTRO SESSION
Launch Offer – 2 Weeks of Free Padel!
We are keen that as many people as possible have the chance to try playing padel so for the 2 weeks after the Open Weekend you can book 2 free hours on the courts. Use one of the promo codes below when you book the court and it will give you a free hour.
g4pbrox1
g4pbrox2
These codes are valid until 31st July 2022
You may only use each code once
There will be no charge for racket hire in this 2 week period
Used balls will be available
If you missed the chance for a free padel intro session at the open weekend there will be free intro sessions you can book with the BTA coaching team. These are available via the MATCHi link above. These sessions will be for 4 people plus coach. We recommend that if you book as a 4 that you consider booking a court afterwards for an hour to practice what you have learned!
If you need any further information about playing padel at Broxbourne please email padel@broxbournesportsclub.co.uk