MASTER BLASTER Coaching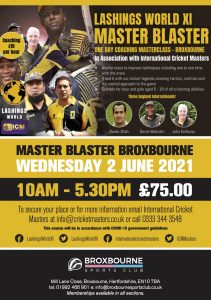 Broxbourne Cricket Club are pleased to announce the Lashings World XI are presenting their MASTER BLASTER coaching session here at the club on Wednesday 2nd June 2021 during Half Term.
Tickets for the days professional and once in a life time experience for your child is £75.00.
Open for boys and girls aged between 5 and 18.
Tickets can be purchased by emailing in the first instance to info@cricketmasters.co.uk or calling 0333 344 3548.