Nugent Down Under – A personal account from John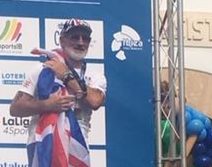 This year has been busy despite health issues and hence fitness, however, in May I retained my Herts County Championship Sprint AG Title and played a part in Hoddesdon Tri Club retaining The Herts County Club Triathlon Trophy for the fourth year.
In September I represented Great Britain in the World Triathlon AG Championships in the Gold Coast, Australia coming 14th in my age group – a wonderful experience.  This was my third GB World Team place having been to Mexico placing 19th and Rotterdam placing 13th.  Rotterdam pre qualified me for Australia and have now qualified for next years World's in Lausanne in Switzerland in August.
I have just come back from Ibiza where I was part of the Great Britain Team in the European Duathlon Championships and gained my first International Podium placing winning a Bronze Medal in my Age Group 76 – 79.
With Winter upon us its back to Cross Country with Broxbourne Runners and several pints of Guinness at the Club. Hope to see many of you in the Bar?