Racketball Open Success at BSC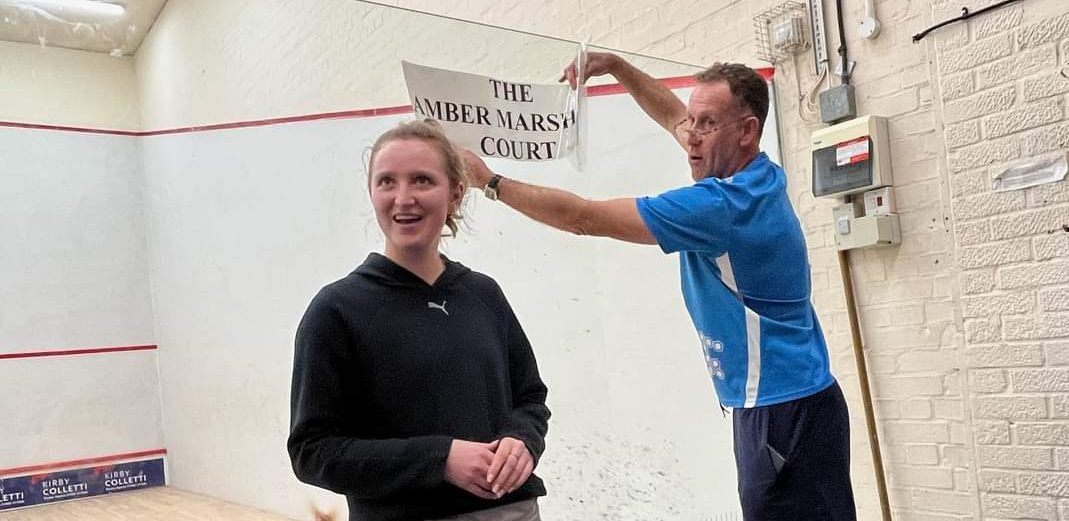 The EAST OF ENGLAND RACKETBALL OPEN took place on Saturday 11th February at Broxbourne Sports Club with all courts showcasing the very best of racketball to the watching crowds.
Local legend Danny Weights proved to be the man in form as he not only scooped up the Over 40's singles title after a tough 3/1 battle with Alexis Smith in the final, but he also managed to claim a quality 2/1 Open Doubles win with playing partner Adam Grilli, over pre-event favourites Luke Bishop and Amber Marshall.
A brilliant effort by Dan and all our players that took part.
One final big upset was that of the Open Final where Broxbourne Head Coach Nick Mulvey managed to avenge last year's final loss and take down Luke Bishop 2/0 in a high quality match with both players utilising all their ball skill and retrieving abilities to the maximum.
Special mention must go to Amber Marshall who has now had the Broxbourne Show Court named after her in recognition of her Squash and Racketball achievements to date!
Congratulations Amber and a lovely gesture from the club too.
Ambers achievements over her relatively short career so far are mind blowing:
U11 England Ranking No.15
U13 England Ranking No. 5
U15 England Ranking No. 5
2016 Broxbourne Squash Club Ladies Champion
U17 England Ranking No. 8
2017 Broxbourne Squash Club Ladies Champion
2017 Broxbourne Squash Club Handicap Champion
2018 UK RB East of England Open Doubles Broxbourne – Winner with Adam Grilli
2018 Broxbourne Squash Club Ladies Champion
2018 UK RB National Women's Doubles Nottingham – Winner with Zoe Fennel
2019 UK RB East of England Open Broxbourne – Women's winner
2019 Herts Closed Racketball Champion
2019 Broxbourne Squash Club Ladies Champion
2019 Broxbourne Squash Club Handicap Champion
2019 UK RB National Women's Doubles Nottingham – Winner with Zoe Fennel
Feb 2020 UK RB East of England Open Broxbourne – Doubles winner with Luke Bishop
Aug 2021 UK RB National Challenger Leamington – Women's winner
Aug 2021 UK RB National Racketball Championship – Women's National Champion
Nov 2021 UK RB South of England Open Chichester – Doubles winner with Luke Bishop
Dec 2021 UK RB National Doubles Nottingham – Mixed doubles winner with Luke Bishop
Dec 2021 UK RB East Midlands – Women's Champion = First woman to ever win series champion title for racketball
Feb 2022 UK RB East of England Open Broxbourne – Doubles winner with Luke Bishop
April 2022 UK RB South of England Open Lee on Solent – Women's winner & doubles winner with Luke Bishop
May 2022 Jersey Racketball Festival team event – Amber playing at no. 2 beat "Jersey Island's King of Racketball" & Ex squash world No. 92 Mike Hopkins 3-2, helping the team 'Amber's Gamblers to win the festival
July 2022 UK RB West of England Open Leamington – Women's winner & doubles winner with Luke Bishop
July 2022 UK RB National Championships Edgbaston – Women's National Champion (12-0 not dropping a game)
Dec 2022 UK RB Series Finals and National Doubles Nottingham – Mixed doubles winner with Luke Bishop & RETAINED series champion trophy
Jan 2023 Jester's Ladies Amateur Squash Championship Winner – knocking out previous year winner 1st seed Kim Hay and 2nd seed Laura Neill