Croquet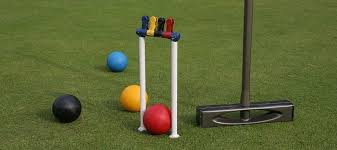 The Lea Valley U3A play croquet at Broxbourne Sports Club on Wednesday mornings from April – October.
They have 4 full sized lawns and one half lawn on the cricket outfield. The group plays Association Croquet, with some occasionally playing Golf Croquet.
Anyone interested needs to be a member of the U3A (discounts offered to members of another U3A group) and there is an annual charge for being a member of the Croquet Group. You can try 2 sessions at £2 each which is rebated on joining.
For more information, contact David Pracy: 01992 893264 d_pracy@hotmail.com