Play Padel at Broxbourne
Court Hire
Cost per hour
| | | | | |
| --- | --- | --- | --- | --- |
| | Weekday | Weekday | Weekend | Weekend |
| | Court | pp Member/Non | Court | pp Member/Non |
| 8am – 10am | £16/£8 | £4/£2 | £16/£8 | £4/£2 |
| 10am – 5pm | £20/£12 | £5/£3 | £24/£16 | £6/£4 |
| 5pm – 10pm | £24/£16 | £6/£4 | £20/£12 | £5/£3 |
Courts are booked online via Matchi. To book a court as a member or non member you will need to register with Matchi. Alternatively you can book via the Matchi app which can be downloaded from the Apple Store or Google Play Store.
The person booking pays the relevant fee for the court via card. They enter the email address of each person playing and the system will identify whether the member or non member rate is due. Each person is sent an email confirmation of the court booking.
If the court is cancelled (e.g. because of weather) you will be offered the option to book an alternative slot.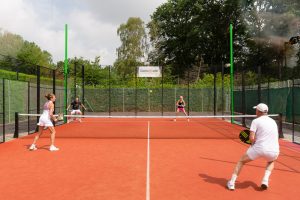 Broxbourne Padel Club Programme
A programme of coaching and social padel sessions is being set up. There will be introductory offers to help as many people as possible to get started and try out padel in the first 2 weeks after the courts are opened.
Further details to follow.