Play Padel at Broxbourne
Court Hire
Cost per hour per person
| | | | | |
| --- | --- | --- | --- | --- |
| | Weekday | Weekday | Weekend | Weekend |
| | Non Member | Member | Non Member | Member |
| 8am – 10am | £4 | £2 | £4 | £2 |
| 10am – 5pm | £5 | £3 | £6 | £4 |
| 5pm – 10pm | £6 | £4 | £5 | £3 |
Total court cost per hour
| | | | | |
| --- | --- | --- | --- | --- |
| | Weekday | Weekday | Weekend | Weekend |
| | Max | Min | Max | Min |
| 8am – 10am | £16 | £8 | £16 | £8 |
| 10am – 5pm | £20 | £12 | £24 | £16 |
| 5pm – 10pm | £24 | £16 | £20 | £12 |
Maximum cost is for 4 non members; Minimum cost for 4 members
The actual cost charged per hour for the court will depend on the mix of players
Courts are booked online via MATCHi. To book a court as a member or non member you will need to register with MATCHi – link provided below. Alternatively you can book via the MATCHi app which can be downloaded from the Apple Store or Google Play Store.
The person booking pays the relevant fee for the court via card. Enter the email address of each person playing and the system will identify whether the member or non member rate is due. Each person is sent an email confirmation of the court booking.
Watch these videos to help you book a court via the website or the app:
If you need to cancel a court (e.g. because of weather) you can do this up to one hour beforehand, paying a £1 admin fee.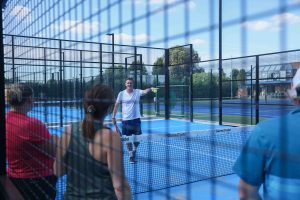 Broxbourne Padel Club Programme
We have a range of social padel sessions running each week. These enable you to rotate play during the 2 hour slot and is a great chance to meet new people and have a drink at the bar afterwards.
| | | | | | |
| --- | --- | --- | --- | --- | --- |
| Day | Session | Time | Eligibility | Cost | Link |
| Thursdays | Ladies Morning | 9am – 11am | Open to non members | £5 | BOOK |
| Fridays | Club Night | 6-8pm | Members only | £8 | BOOK |
| Sundays | Club Morning | 10am – 12 noon | Open to non members | £8 | BOOK |
Padel coaching is provided by our BTA coaching team.
Introductory sessions are available to book via MATCHi. They are a great way to start if you have never played padel before and want to give it a try. They are for groups of 3-4 participants and aim to introduce the rules and basic techniques. The coaches will also run drills which will help those from a squash or tennis background to improve their padel shots and tactics. Sessions running currently are on Saturdays at 12 noon for 1 hour and cost £5. You will need a MATCHi account to book your place, sessions open to members and non members.
Please note that if there are insufficient bookings for the social padel or intro sessions, they will be automatically cancelled. If sessions are fully booked a waiting list system is available.
BTA can also offer private padel coaching for up to 4 people. These cost £45 per hour and need to be booked via BTA. Contact Harry James on 07903 340117 or harry@btatenniscoaching.com.
Broxbourne Padel Contacts
Membership/MATCHi queries – Sara Childe: padel@broxbournesportsclub.co.uk
Facilities/Equipment issues – James Shand: james.shand@me.com; 07785 372793
Padel Development/Competitions – Nick Emery: nickemery21@icloud.com