Walking Football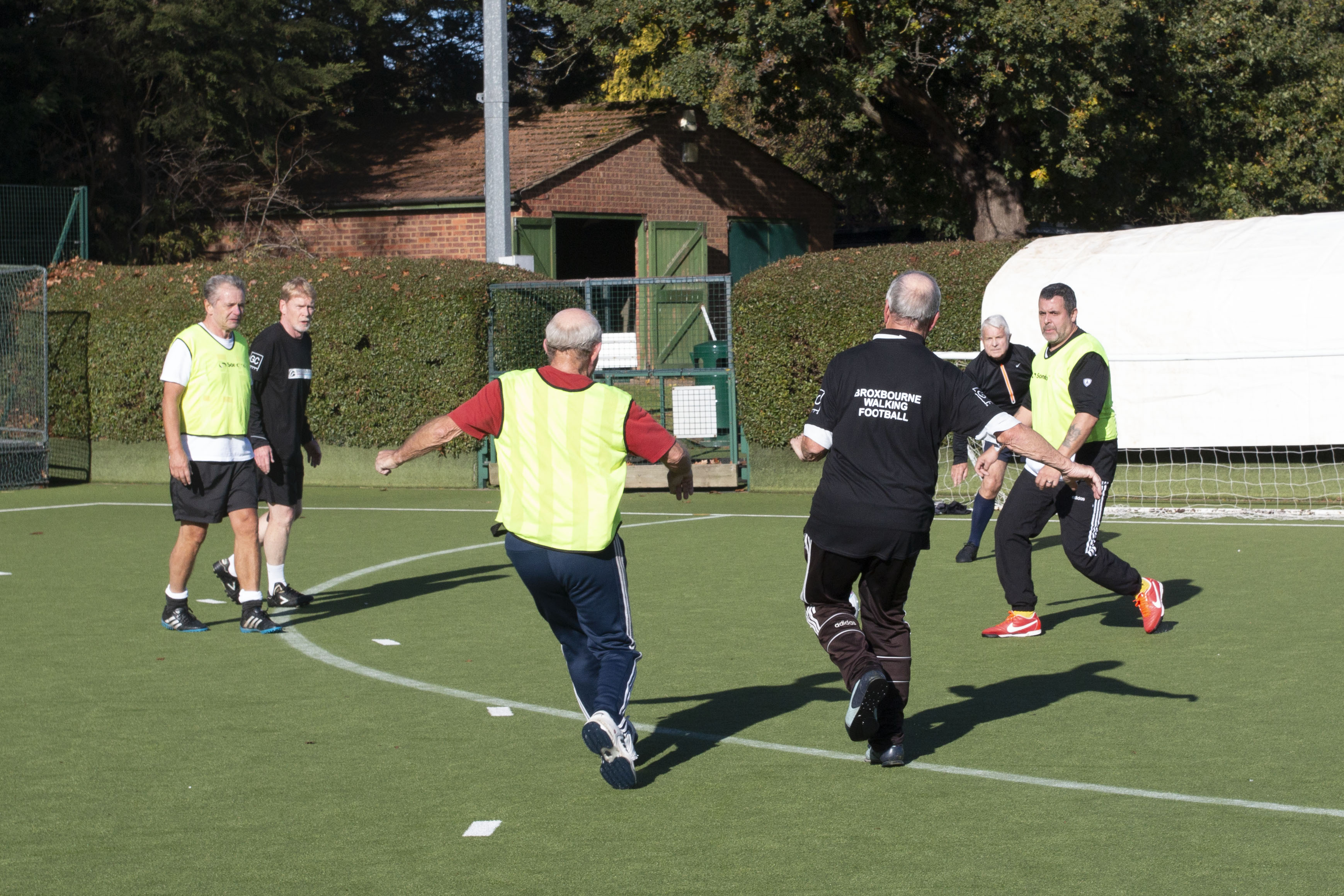 Walking Football at Broxbourne Sports Club

Fridays 10.30 to 11.30am on the astro turf pitch, cost £3, increasing to £3.50 from 1st January 2023.
We hope to offer other sessions on the astro pitch – further details to follow.
All standards are welcome – even if you have never played football before!
A great social opportunity too as participants enjoy hot or cold drinks together afterwards. Come and try our new outdoor beer garden.
Join Broxbourne Sports Club
Broxbourne Sports Club also offers a Walking Football membership package. This costs £120 per annum – £100 pro rata for those joining after 30th June.  Members will be able to participate in all sessions free of charge until 30th April 2022.
By joining you may also apply for a bar fob (£5 returnable deposit). This enables members' prices at the bar and door entry to the main building.
Existing BSC playing members will be eligible for a 50% discount off Walking Football membership.
Social members may apply for a Walking Football membership instead of social membership and retain all the normal privileges.
To apply for membership, please email info@broxbournesportsclub.co.uk
Non members may participate on a pay and play basis.
Why Walking Football?
This low impact version of the game doesn't allow running or contact between players. So, if you are an ex-footballer or enjoyed other sports and are not as mobile as you used to be, this is a great way to keep active. Or if sport hasn't been your thing up to now but you want to get some good exercise, fresh air, have fun and meet people – why not give it a try? There are many proven health benefits for men and women.
The sessions at Broxbourne Sports Club will be run by Jonathan Sands. He is Chairman of Cheshunt Walking Football Club and will be bringing his experience and love of the game to inspire those who come to play at Broxbourne.
Clothing – T-shirt/shorts or tracksuit and trainers or astro boots (no studs please!). Toilets will be available but no changing facilities at the moment – so please come ready to play.
For more information and to book your place, please contact Jonathan Sands on 07795 606087 or jonathonsands@hotmail.com or Russ Bartlett on 07774 123421 or rbservices23@gmail.com
For those who like to use the Spond app – click here to access the Broxbourne Walking Football group.